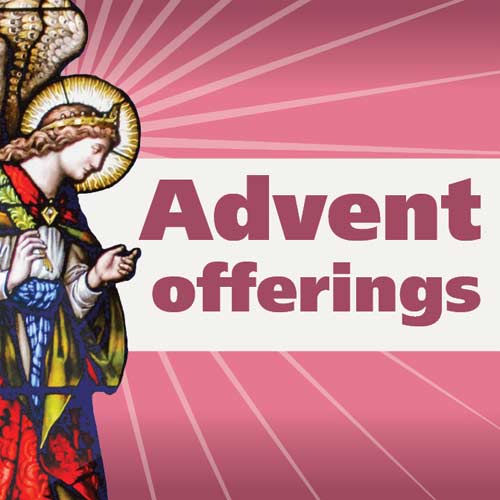 Prepare the way for the Lord
Grief Support Group series for the Holidays
Wednesdays (Nov. 29 and Dec. 6 & 13), 4-5pm
Grief can be difficult to carry alone, especially through the holidays.
Peggy Lucas, Pastoral Associate at STM, is offering a support group that will meet in the Bauman Library in More Hall.
RSVP
by Monday, November 27 to Peggy by  EMAIL or 816-942-2492 x210.
Women's Advent Small Group
Tuesdays of Advent (Dec. 5, 12, 19), 6:30-7:30pm
Hayley Shaver, STM Evangelization & Discipleship Coordinator will host the group in the Bauman Library.
We will be going through Blessed is She's Advent devotional "Found" and will walk through Psalm 23. This Catholic devotional book will provide daily meditations on Psalm 23 with an invitation to a deeper relationship with Jesus, the reason for the season!
Come to share insights and grow in community as a parish. This is open to ALL women of the parish, regardless of your state in life!
RSVP
by Monday November 20 to Hayley by EMAIL  so that she can order the right number of books and give you more information about the meetings.
You can look up Blessed is She on blessedisshe.net, Instagram, or Facebook for more information about the devotional.
8th Annual Advent Morning of Reflection
Saturday, December 9, 9-11am
"We must reflect the light of Christ through lives of prayer and joyful service to others."   ~ Pope John Paul II
Join other STM parishioners for an uplifting Advent Morning of Reflection with presenters David Butel, pastoral associate, and Tom Turner, former Bishop Sullivan Center director. This year's theme will focus on finding the light of Jesus through a combination of prayer and service. We will have interesting discussion along with beautiful music and prayer to begin our journey through Advent.
ALL are welcome to this special morning of prayer. The morning will begin with 8:15am Mass and then we will gather in More Hall.
RSVP
by Wednesday, December 6, to Marla Byrne at mjbyrne0926@swbell.net