Catechist of the Good Shepherd and Children's RCIA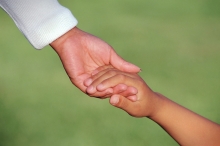 Children from preschool through eighth grade not attending our parish school are offered classes in religion on Wednesday evenings. We meet from 6:00 to 7:10 PM.
Contact & registration
SOR registration form 2016-17
Circle of Grace letter to parents
---
Pre-K, Kindergarten and 1st Grade
Our youngest students are ages Pre-K through 1st grade. Their teacher, Kitty Kennaley, uses the "Catechesis of the Good Shepherd," a Montessori program for teaching religion. This is a hands-on method of teaching that attends to the whole child, whatever their learning style.
2nd Grade/ Any Child in need of their Initiation Sacraments
Second graders work to prepare for 1st Reconciliation and 1st Eucharist. If there are children in 3rd or 4th grade who have not received the sacraments, they can also come to these classes to prepare for the sacraments.
6th-8th Grade
If you are in need of Confirmation Preparation please contact Fr. Justin Hoye or check out the Youth Group web page for more information.
Parental involvement
Parents are always welcome to attend the sessions. Materials are sent home after some sessions so parents can work with their children at home.
It is extremely important that parents make an effort to have their child present each week so that there is continuity in their religious preparation.