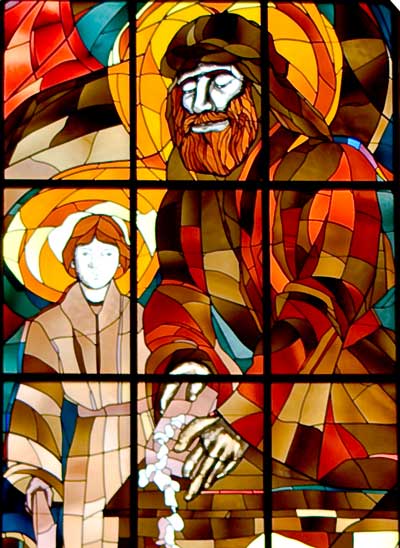 December 8, 2020 - December 8, 2021
On the Solemnity of the Immaculate Conception of the Blessed Virgin Mary 2020, Pope Francis announced in his Apostolic Letter, Patris Corde, a Year of St. Joseph. The announcement occurred on the 150th anniversary of Quemadmodum Deus by Pope Piux IX, which declared St. Joseph as Patron of the Universal Church. 
As part of the year, plenary indulgences are available. Plenary [whole, entire] indulgences, which remit the temporal punishment due to forgiven sin, are gained and applied by accessing the treasury of Christ's merits.
Plenary indulgences can be obtained by
Going to Confession, receiving the Eucharist, praying for the intention of the Pope, plus one of these acts:
1. Meditating on the Our Father for at least 30 minutes
2. Taking part in a spiritual retreat of at least one day that includes a meditation on St. Joseph.
3. Performing a corporal or spiritual act of mercy.
4. Reciting the rosary together with one's family or, for engaged couples, with one's fiancé
5. Entrusting one's daily work to St. Joseph, including those who seek his intercession in times of unemployment
6. Reciting a prayer to St. Joseph for the relief of Christians persecuted both inside and outside of the Church.
7. For the elderly, sick, dying and homebound: reciting an act of piety to St. Joseph under his title of Comfort of the Sick and Patron of a Happy Death, provided they offer their discomfort to God and fulfill the conditions for the indulgence as soon as possible.
This Litany will be prayed about five minutes before all weekend Masses for the month of March. Those who are participating in the Consecration to Saint Joseph are praying this Litany daily at home, through March 19, the Feast of Saint Joseph.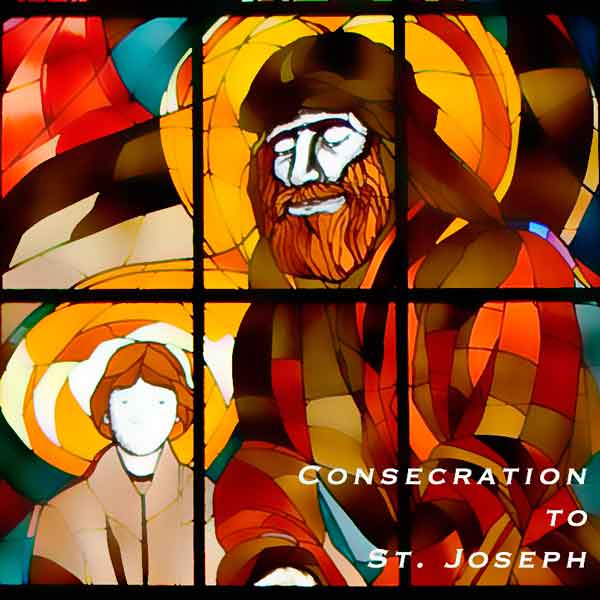 33 Day Consecration to Saint Joseph
NEW Consecration concluding Father's Day 2021: May 19--June 20, 2021
To consecrate ourselves to a Beloved Saint marks an act of individual devotion and draws us into a special relationship to receive blessings, indulgences and spiritual fruits from the one to whom we are consecrated. It is, in another way, an invitation to friendship and spiritual adoption.
About 
STM will provide bound book with all of the prayers and materials that you will need. While the
consecration can be made privately, there will be four days on which those making the consecrated are
invited to come together: May 19, 5:00-6:30pm; May 30th following the 9:00am Mass; June 11th,
5:00-6:30pm; June 20th following the 9:00am Mass.
Preregistration is not required. You will be able to pick up your book at this first night of the
Consecration. If you are unable to attend on the first night, please contact Fr. Ketterlin to receive a copy
of the 33 Day Consecration book.
Schedule
Tuesday, May 19th
5:00-6:00 pm Holy Hour
6:00-6:30 Introduction and first prayers of Consecration
Sunday, May 30th
9:00am Mass
10:00-10:20 Meditation and prayers of Consecration
Friday, June 11th (Solemnity of the Most Sacred Heart of Jesus)
5:00-6:00pm Holy Hour
6:00-6:30 Meditation and prayers of Consecration
Sunday, June 20th
9:00am Mass
10:00-10:30 Meditation and final prayers of Consecration
More Information & Resources
You may access the daily meditations and prayers online through this link:
Questions
If you have any questions, please contact Father Ketterlin, frketterlin@stmkc.com or 816-756-6570. 
Novena Prayer to Saint Joseph - for STM
We will praying this prayer at Mass through the Year of Saint Joseph.
O Saint Joseph, whose protection is so great, so strong, so prompt before the throne of God, we place in thee all our interests and desires.
O, Saint Joseph, do assist us by thy powerful intercession, and obtain for us from thy Divine Son, Jesus Christ Our Lord, all spiritual blessings, so that, having engaged here below thy heavenly power, we may offer our thanksgiving and homage to the most loving of fathers.
O, Saint Joseph, we never weary contemplating thee and Jesus asleep in thy arms; we dare not approach while He reposes near thy heart. Press Him in our name and kiss His fine head for us; and ask Him to return the kiss when we draw our dying breath.
Saint Joseph, patron of departed souls, pray for us.
Father Kreidler on Saint Joseph
On website of Diocese of Kansas City- St. Joseph