Our Guatemala story (written 2013)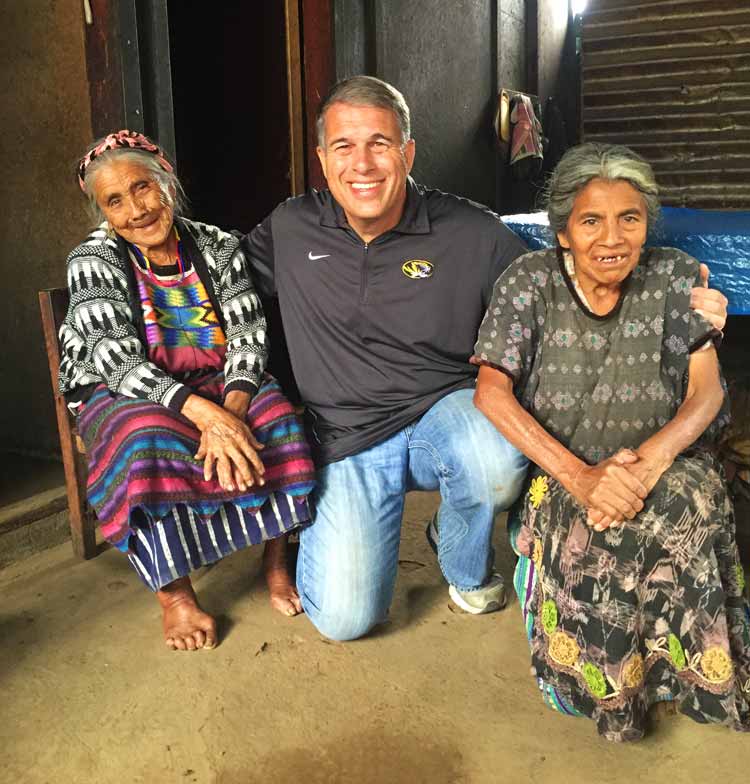 It was June of 1990 when Father Pat Rush led a group of St. Thomas More parishioners to the small mountain village of San Andres Itzapa , Guatemala.  With assistance and guidance from the Christian Foundation for Children and Aging (CFCA), STM joined hands with Padre Pancho, the pastor at the cathedral in San Andreas, Madre Marina , founder of the Carmelite order whose convent is located there and the people of the community  to begin a relationship that continues today after 30 years. Padre Pancho had a vision for that small village of predominately Mayan people who had been the victims of prejudice and civil war for many years.  He had witnessed the needs of the people for better nutrition, health care, skills training and education.  He believed that a partnership between the two communities could provide the assistance needed for the poorest of the poor in Guatemala to have a better life.
In 1992, Father Bill Bauman became pastor of STM and embraced the relationship formed with our sisters and brothers in Guatemala.  Because of a difference in opinion between the leadership of the small school that had served the needs of the San Andreas' children, the Mayan children could no longer attend the school and live their culture.  
Seeing the pain this created, Father Bill established a relationship with a new visionary to build another school , San Bartolome , that provided a Catholic education for the Mayan children in their native language. Through the years, St. Thomas More supported San Bartolome school, educating over 650 students yearly. When the government assumed financial responsibility for supporting the school, St. Thomas More stopped financially supporting the school.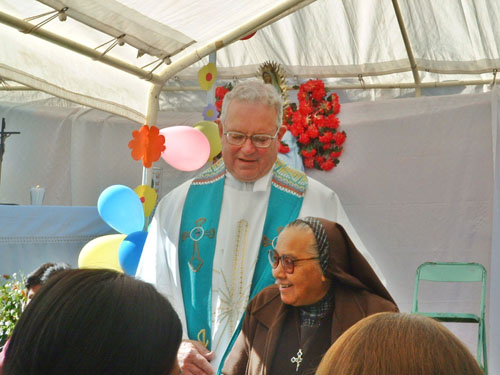 The Saint Thomas More Guatemala Action Group (GAG) works to foster awareness of the needs and values of our sister parish, San Andres Itzapa in Guatemala. Our goal is for both parishes to grow and benefit from our shared journeys of faith.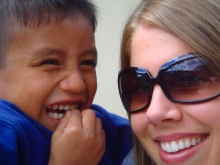 Regular mission trips to Guatemala help foster a relationship with our brothers and sisters there.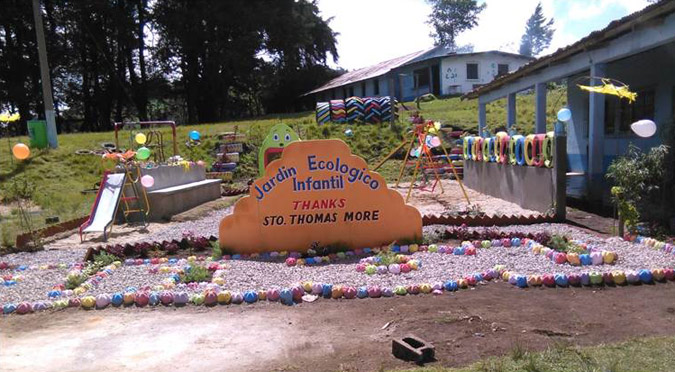 We helped found a school, Escuela San Bartolome, in San Andres Itazapa in 2004.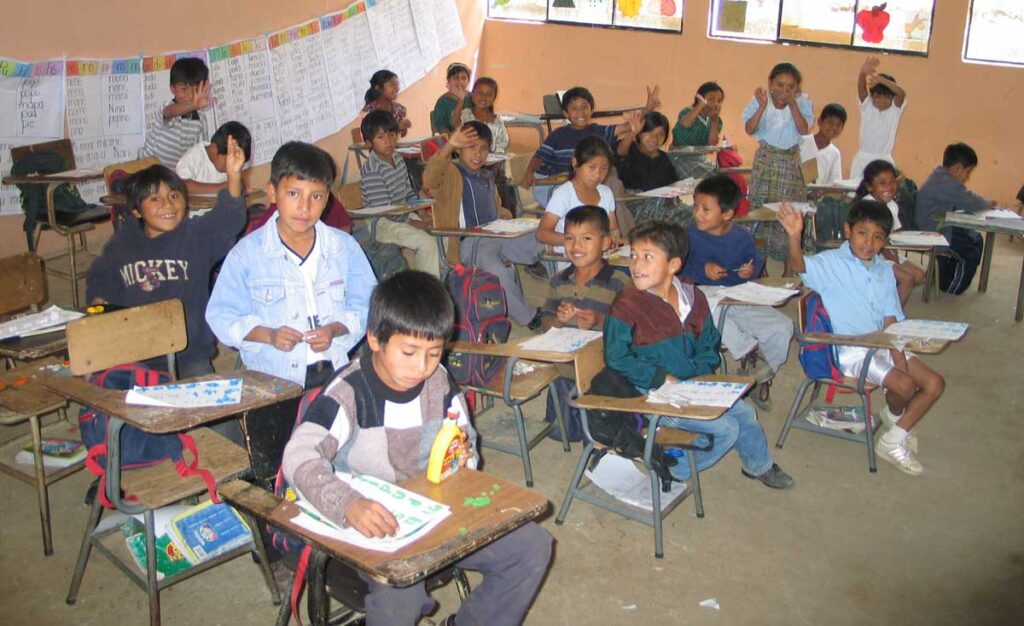 Each summer, we make two mission trips to San Andres Itzapa, Guatemala, where we've helped that small rural town in many ways. During our 30 year relationship over 2,000 travelers have made the trip.
Signing up for a trip
The information meeting to sign up for our summer trips is in early December. See the travel information and forms below for more information.
Trip information
Contact Bill Munninghoff or Phil Smith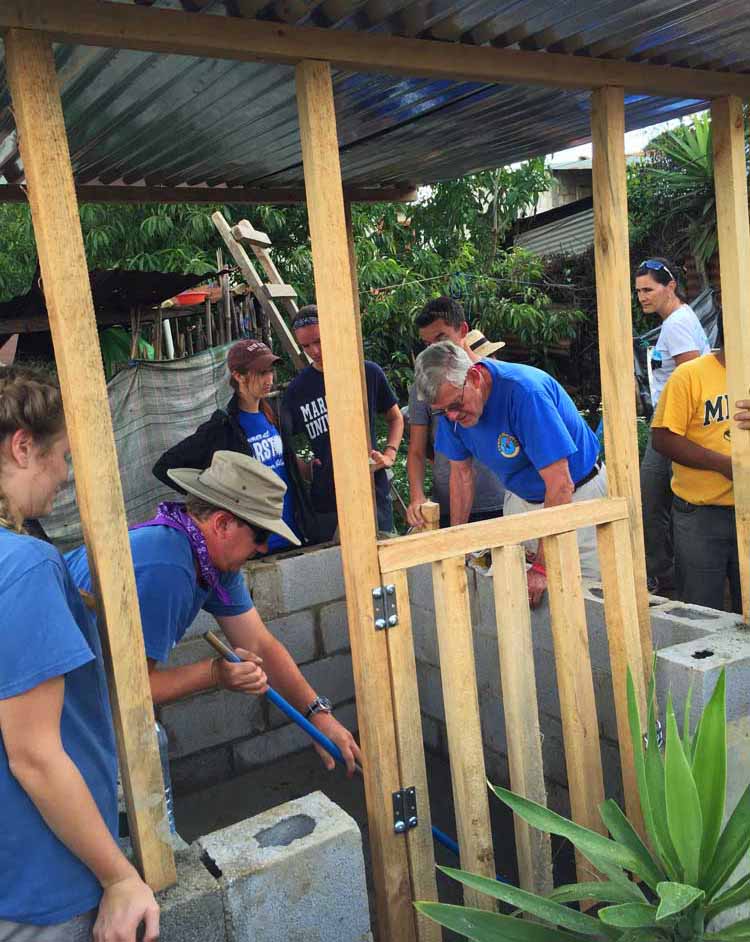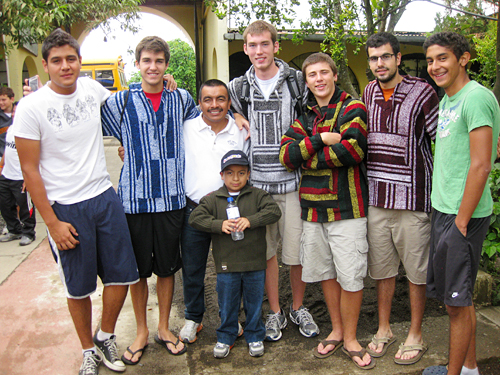 Photo by Maryalice Williams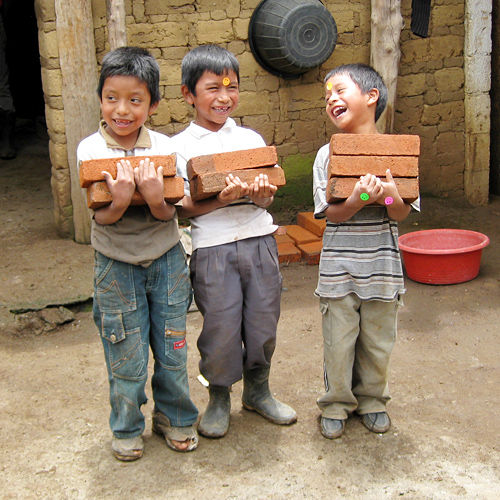 By Ryan and Emily. Includes photos and some testimonials toward the end.
The Carmelo de Nazareth Convent in San Andrés Itzapa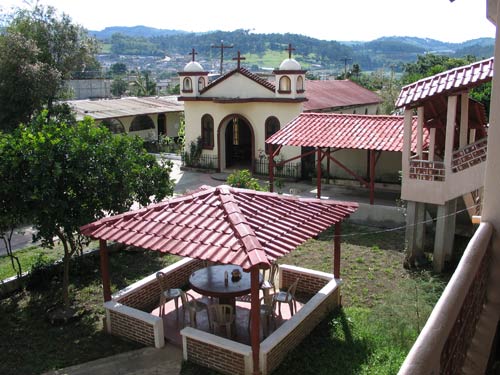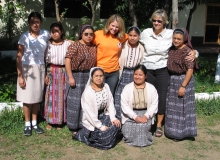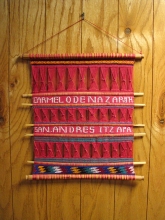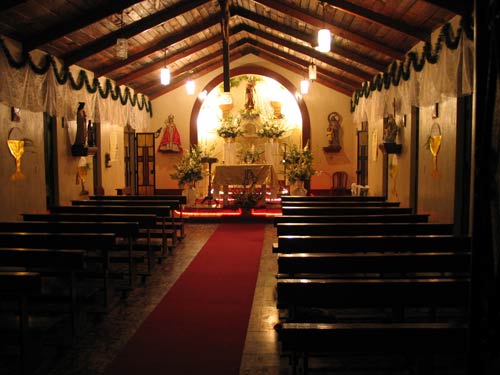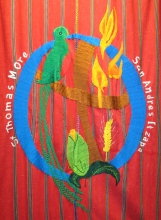 This St. Thomas More – San Andres Itzapa sister parish logo was designed by Sister Frances Marie Grady, S.G.L. The two flames, becoming one, symbolize the union of love between the people of the two parishes. The wheat of mid-America and the corn, or maiz, of Guatemala, express our union in the Eucharist and our desire to nourish one another's faith. The Guatemalan bird, the quetzal, which cannot live in captivity, represents the yearning of the Guatemalan people for peace and freedom in t heir land. All are encircled by a globe, our world, united in the Cross of Christ. The logo was hand-embroidered by the Carmelite Sisters of San Aridres Itzapa on band-loomed Guatemalan fabric in June 1991.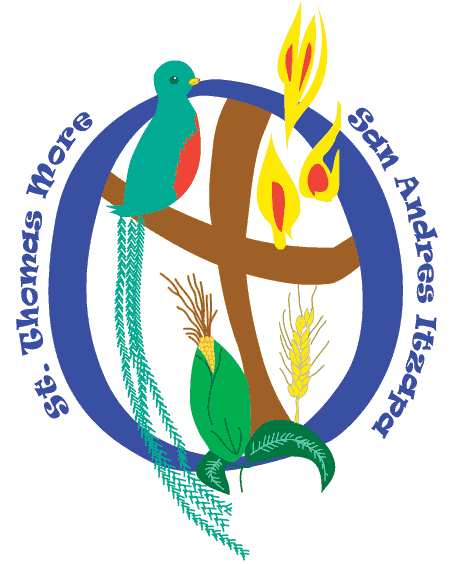 Each year, St. Thomas More celebrates Guatemala Sunday. Through the generosity of St. Thomas More parishioners and others, we are able to assist the poorest of the poor in San Andres Itzapa, Guatemala. The average person in this community earns a dollar a day, lives in a mud/adobe hut with dirt floor, little access to clean water, electricity, medical or dental care or educational opportunities.
Due to your support STM has:
Built and supported a school for poor Mayan Indian children.
Built and supported an orphanage for physically and mentally handicapped children.
Built and supported a community center in Coban, Guatemala that allows orphan children in the area to eat two meals per day versus eating from the local dump.
Built and support a convent for religious sisters to live in Saint Michel, Guatemala that allows them to serve a community with many needs.
Installed a new concrete roof (the previous roof was about to collapse) on the convent in Itzapa.
Assisted over 2,000 parishioners and others, including doctors, teachers, and youth to travel and develop relationships with some of the most wonderful people they could ever meet, as well as provided hundreds of new pairs of shoes, 2000 new school books, clothes, medical supplies, medical and dental care.
Projects including: building stoves, building small homes, installing concrete floors in mud huts, replacing old leaking roofs with new, developing community co-ops providing Pig pens (including pigs and feed),
Chicken coops (including chickens and feed), and community gardens.
Assisting Valle de Durazno, the only school in the area for physically and mentally handicapped children.
Continuously assist and support an orphanage for physically and mentally handicapped children (that was built as a result of many generous STM people).,
Our annual Guatemala collection and gifts throughout the year helps make all this possible. Thank you
Hogar Los Gozosos Orphanage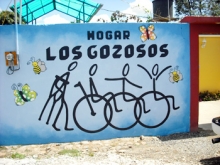 The Hogar Los Gozosos (The home of joy or joy-filled homes) Orphanage, that nearly closed 2008, was kept open through STM donations that enabled them to purchase a permanent home.. The orphanage provides a home for physically and mentally handicapped children.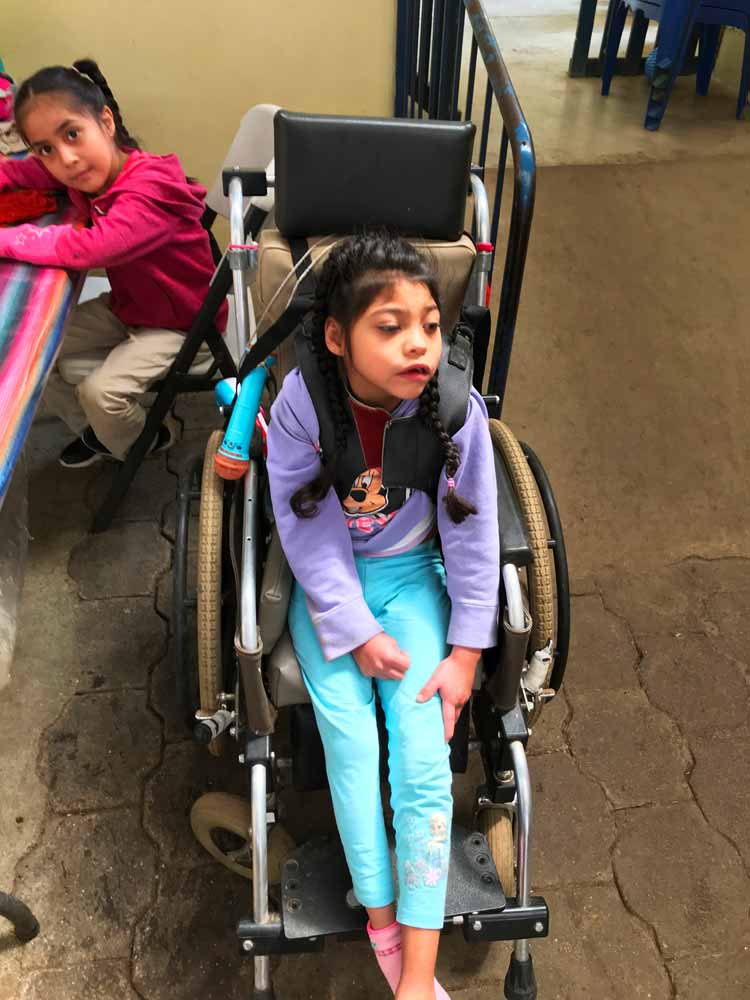 "Better people make better families and communities, and together we make a better world."
The Guatemala Women's Group is a grass roots organization, founded by a Mayan family and supported by St. Thomas More Parish, that strives to build and develop solidarity among the most vulnerable families of San Andreas Itzapa and its surrounding areas.   To receive the benefits of the projects sponsored by STM, the women must commit to attendance at the meetings and participate in community improvement projects.  These meetings strive to generate a "development perspective" and allow all participants to acquire a set of skills and practices that will help them build a better future for their families and communities.
Values Promoted in Meetings
Involvement
Punctuality
Unity
Respect and Honesty
Perseverance and Communication
Kindness and Gratitude
Program Goals
Promote a perspective of personal development
Generate an integral self-esteem through self-knowledge
Become aware of where we want to be in the future and what conditions we can build for the future.
Generate a clear perception of the role that each individual must play in the society and coach to self-prepare by learning the necessary skills
Foster a community perspective
Facilitate the awareness and involvement of the program participants in the most relevant community problems.
Educate and promote the political impact of the participants to minimize government corruption.