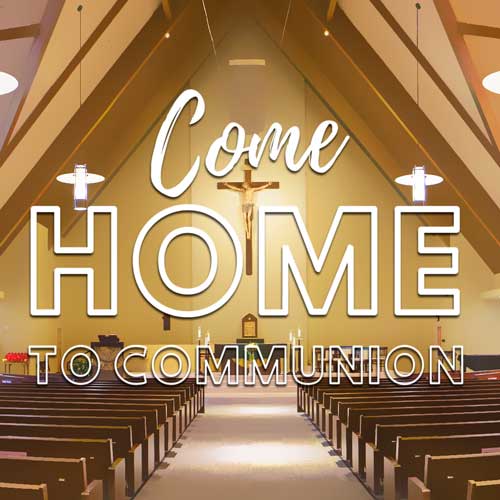 Mass schedule and guidelines
Mass schedule (Mass times)
Mass online continue to be available online at stmkc.com/massonline soon after they are celebrated. 
Mass times

Weekday:  Mon & Fri 8:15am, 


Tues, Wed, Thu  6:15am & 8:15am, 

Sat 8:15am

Weekend: Sat 4pm, Sun, 7:30am, 9am, 11am
Also, please read the guidelines below.
Monday-Friday, 6am-6pm*
Saturdays: 7am-5pm
Sundays: 7am-9pm
*The church is closed on Wednesdays and Thursdays, 2-3pm, for school Masses.
Sacrament of Reconciliation Confession)
The Sacrament is available in the Confessional (southwest corner inside the Church) Individual Confessions by appointment and
Tuesdays and Thursdays, 5-6pm
First Saturdays, 7:15-8am and 
All Saturdays, 3-3:45pm 
Bishop Johnston announces "Come Home to Communion," a diocese-wide invitation to return to church.
Whether you are preparing to return post-Covid, are a fallen away Catholic considering returning, or know someone you want to invite,  resources are available at kcsjcatholic.org/comehome
A video message from Bishop Johnston
inviting a friend
finding a church
preparing your heart
the benefits and blessings of Keeping the Lord's Day
AND MORE…
What you Need to Know as You Gather with Us in Prayer
Updated December 17, 2021
Guidelines for Attending Mass
All entrances to the Church are now open during regular hours. Greeters in the Narthex continue to be available on the weekends to answer questions you might have about our services.
As of Christmas 2021, open seating will be extended throughout the entire Church.
Seating for those who desire social distancing remains available in the Chapel, Cry Room, as well as throughout the Narthex.
Weekday Mass Times remain: Monday-Friday 6:15AM & 8:15AM; Saturday 8:15AM
Weekend Mass Times remain: Saturday 4PM; Sunday 7:30AM, 9AM and 11AM
Online Masses:
One Mass is uploaded daily to our website for virtual worship.  These are usually available by 9AM every morning.
Other Events/Gatherings in the Church and Hall:
There is no mask requirement within our buildings.

Masks continue to be available in our common areas.
As of November 5th, there are no emergency orders within Kansas City requiring masks within our establishments. Masks remain available for parishioners and visitors in our buildings, and opportunities for social distancing within our liturgies remain in place.
In place at St. Thomas More
Mask wearing is not required – although strongly encouraged – in the Church, Parish Office and More Hall.
All Church entrances are open during the Weekend Masses
Seating for social distancing is available as well in the Cry Room, Chapel, and in the Narthex
Confessions are being heard in the Confessional
Church is open weekdays for prayer during hours posted above