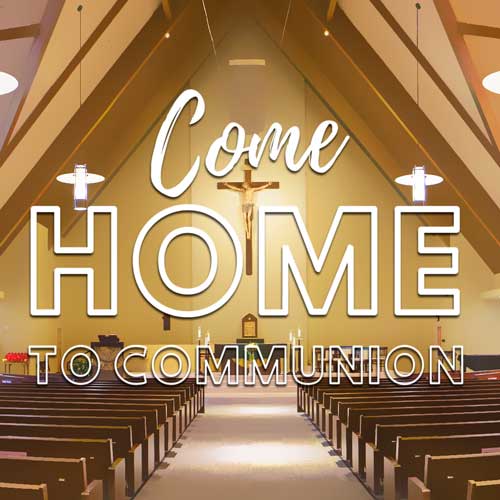 Mass schedule and guidelines
Bishop Johnston announces "Come Home to Communion," a diocese-wide invitation to return to church.
Whether you are preparing to return post-Covid, are a fallen away Catholic considering returning, or know someone you want to invite,  resources are available at kcsjcatholic.org/comehome
A video message from Bishop Johnston
inviting a friend
finding a church
preparing your heart
the benefits and blessings of Keeping the Lord's Day
AND MORE…
What you Need to Know as You Gather with Us in Prayer
Guidelines for Attending Mass
All entrances to the Church are now open during regular hours.  Greeters in the Narthex continue to be available on the weekends to answer questions you might have about our services.



Open seating is now available in most of the church.  
The northernmost section of the Church has been retained as a section with limited seating (every other pew empty) to accommodate those most vulnerable and who continue to mask up.
Priests and Extraordinary Ministers of Holy Communion will continue to be masked when distributing the Eucharist (per Bishop Johnston's directive).
Weekday Mass Times remain: Monday-Friday 6:15AM & 8:15AM; Saturday 8:15AM
Weekend Mass Times remain: Saturday 4PM; Sunday 7:30AM, 9AM and 11AM
Online Masses:
One Mass is uploaded daily to our website for virtual worship.  These are usually available by 9AM every morning.
Other Events/Gatherings in the Church and Hall:
There is no mask requirement within our buildings.

Masks continue to be available in our common areas.
Mass schedule (Mass times)
All Masses continue to be available online at stmkc.com/massonline soon after they are celebrated. 

Public Masses (no signup required)

Monday-Friday 6:15am & 8:15am and Saturday 8:15am
Sunday, 7:30am, 9:00AM and 11:00AM. 
Also, please read the guidelines below.
Open for prayer
Monday-Friday 6AM-6PM; Weekends 7AM-5PM
Sacrament of Reconciliation (Confession)
The Sacrament is available in the Confessional (southwest corner inside the Church)
Tuesday 5-6PM
Thursday 5-6PM
Saturday 7:15-8AM; 3-3:45PM